I started out to do a 2014-by-the-numbers thread to match last year's, but a couple of the awesome things that happened in my writing life this year aren't really quantifiable.
I got my first Nebula nomination, and a fancy Nebula pin, and a chance to go to San Jose for the awards and see beautiful flowering trees and amazing mechanical musical instruments that played when you put in buffalo nickels and meet all kinds of cool people (pictured here with John Joseph Adams and Henry Lien.)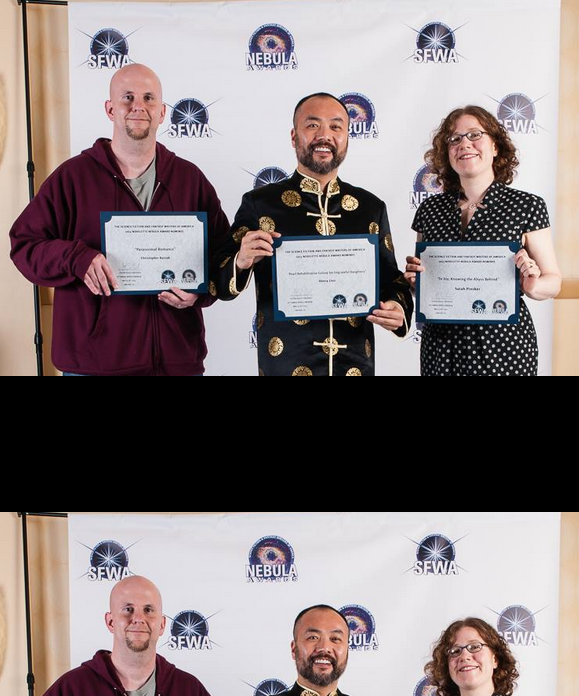 I won the Theodore Sturgeon Memorial Award! I got to hang out with more awesome people in Kansas, and take part in the Campbell Conference, and give a speech about crowd-sourced hurricane repairs. (I was looking at someone else when this photo was taken.)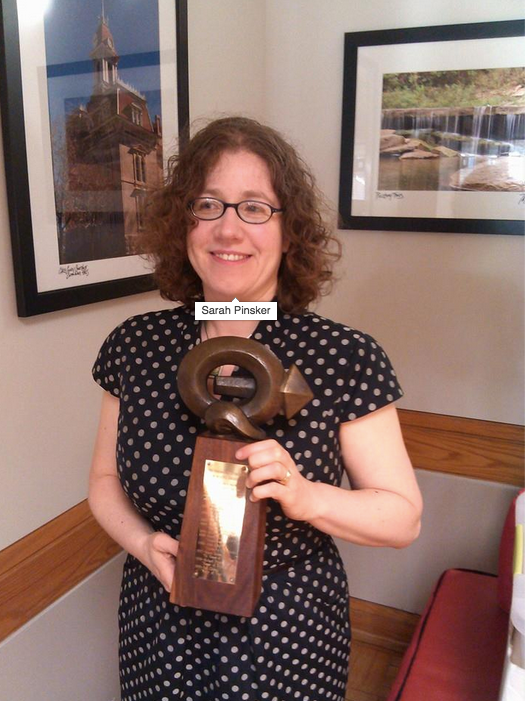 I had my first print-magazine stories come out. Also my first anthologies. I went from having nothing to sign at signings to having eight signable things in one year.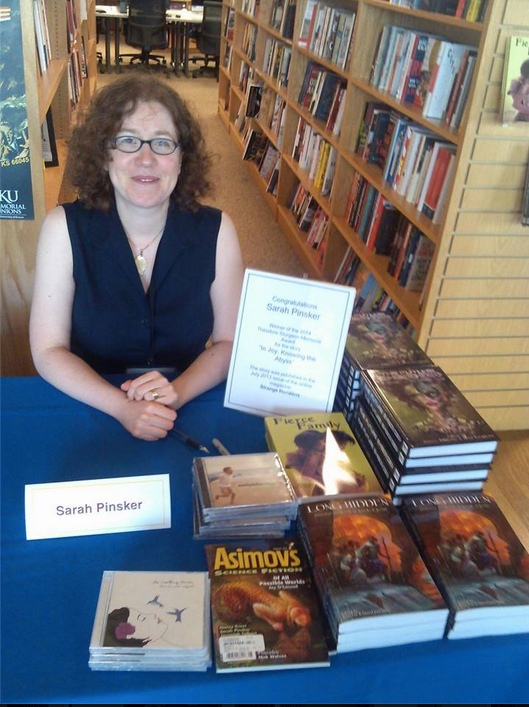 I got a bunch of invitations to be on programming at various cons, and to do standalone readings.
I got to be part of three projects I really wanted to be part of: the Long Hidden and Fierce Family anthologies from Crossed Genres, and the Women Destroy Science Fiction! issue of Lightspeed. 
I outpaced the year before in sales, publications, and money earned from stories. 
I was elected to office with the Science Fiction & Fantasy Writers of America.
I had my name on the cover of Asimov's! Twice!
On the music front, tracking and mixing for my new album are finally finished, which means it WILL come out in 2015.
My list of stories published this year is here and my list of favorite books read this year is forthcoming.
And in case I haven't mentioned the people already, I have met and dined and drank and critiqued and paneled and conversed and roomed with so many wonderful human beings this year. I think the best thing I've gotten out of this last couple of years is all of you. Thanks to the editors and the readers and the writers and the cheerleaders and the pep-talkers and the critiquers and the narrators and the bloggers and the reviewers and the friends and future friends among you. I really appreciate it.
2014 by the numbers (some of which may be a little off, but close enough):
Submissions outstanding as of Dec. 29, 2014: 12 (9 reprints, 3 original)
Total submissions 2014: 60 (22 reprints/translations & 37 originals)
Acceptances: 22 (9 reprint/podcast, 1 translation, 12 original) to 17 markets
Pro-rates: 11
First sales to: Escape Pod, Apex, Uncanny, Unlikely Story, UFO, PULP, How To Live On Other Planets, Spark, Toasted Cake
Sales to: Asimov's, Fantasy & Science Fiction, Lightspeed, Daily Science Fiction
print magazine:6
print anthology:2
e-zine:8
podcast:3
Originals: 1 sale on 10th submission of the story, 3 on 2nd submission, 5 on a first submission, the rest in the 3-6 submission range.
Stories completed in 2014: 11 ( a bunch more are close but not quite right)
Stories written in 2014/sold in 2014:10
Stories published in 2014/sold in 2013: 8
Stories written earlier, revised and sold for the first time in 2014: 2
Stories awaiting rewrite: 7ish?
Stories started but unfinished: 3
Stories that appeared for the first time this year regardless of date of sale: 11
Stories podcast in 2014: 3
Novels written: 0
Stories translated and sold: 1
Translations sold in: Galician
Year's Best anthologies: 0 as of this writing
Readings: 9 (Balticon, Readercon, Darkover, World Fantasy, Baltimore Book Festival, Capclave, Campbell Conference, Writers & Words, Starts Here)
2013 for comparison
Total stories written: 12
Total submissions (includes reprints):69
Total acceptances (includes reprints):12
Readings: 4
2015 (based on existing acceptances)
Total original stories already sold for presumed 2015 publication:8
So that was my outstanding year. Tell me about your writing year or your writing goals here or on Twitter!