I've been trying to write a post about my amazing trip to China for almost two months now. Part of what's taken me so long has been sifting through 400 photos to decide what to include here. The other delay was all the deadlines I extended so I could take the trip.
Anyhow, here goes: 
I was invited to China by three different organizations: the promoters of the MTA Festival (YEMA Live), the FAA (Future Affairs Administration), and Science Fiction World magazine. The MTA Festival was supposed to be a combination of South by Southwest and Coachella, but the art installations elevated it to something else entirely (more on that in a bit).
I arrived in Beijing bleary-eyed, having decided that the best course of action was to stay up through the entire flight and trick my body into exhaustion. It worked! Morning in Baltimore, evening in Beijing, and I was a wreck. I've touched down in new-to-me countries in that state before, and it brings a certain degree of surreality.
My volunteer guide from the festival, Gracia, managed to find me in the airport after a bit of triangulation, and I fought to stay awake through the ride into the city. Gracia helped me check into my hotel and find my room. We got into the middle of the room and the lights promptly went out. I didn't know you were supposed to put your room card into a little slot by the entrance in order for the lights to work. I collapsed onto the bed the second she left.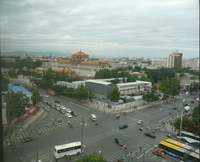 Fourteen hours later, I met her downstairs for a day of sightseeing. First she took me to buy a Chinese SIM card for my phone, which made communication with everybody much easier.  We had lunch at the delicious Bǎihé vegetarian restaurant, in a hutong near the Lama Temple, where I had the best vegetarian sausage dish I've ever had, sautéed with green beans. 
We then took several buses around to the entrance of the Forbidden City. For the entire afternoon we wandered in and out of palaces and courtyards. Many of the signs were bilingual, and Gracia helpfully filled in information when the signs were lacking. It's a magnificent complex. The scale of it boggled my mind. I think I liked the outer gardens best, with their serene courtyards.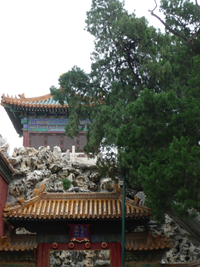 For dinner, we found another hutong restaurant, Zuo Lin You She, serving a finger-shaped fried dumpling called dalian huoshao. We had several: tofu and fennel, egg and chive. Delicious after a long day of walking.
The following day, we stopped at a bakery and filled a bag with pastries and then took several subway trains and buses out to the Ming tombs. The Ming tombs are spread out over a fairly large area, with several different sites. Some of them still haven't been found. I loved the Sacred Path, much less crowded than the other sites, and lined with beautiful trees and expressive sculptures.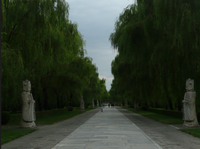 We bused and subwayed back into the city, then took a cab to another lovely Buddhist vegan restaurant, where we waited for the volunteer driver who was supposed to take us out to the festival site. I passed out completely in the car, after two days of sightseeing and an upside down schedule. Woke up to Gracia and the driver arguing about where we were – the GPS said we had reached my festival hotel, but we were sitting on the side of the highway next to a half-constructed building with no lights on.  After waiting and triangulating, with the GPS still insisting we were there, a truck pulled in and told us to follow. We turned onto a dirt service road and went a couple more kilometers until we reached another construction site – the hotel. It was well after midnight, but Gracia found a clerk to let me into my room. The lobby was a work in progress, but my room was beautiful, and bigger than my house. I had just about enough time to notice that before I passed out again.
Gracia called to wake me in the morning, and to tell me there was a panel going on at the festival that I might enjoy. I packed a day bag, put on hat and sunscreen, etc. She met me outside my room and led me…  upstairs! While the lobby and outside of the hotel weren't quite finished, upstairs there was a beautiful hall where the festival's tech panels were taking place. The hotel, it turned out, was also a winery. Their wines flowed freely all weekend – the white was delicious – along with strawberry moon cakes.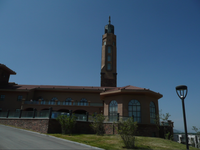 The first panel was an interview with Michael Lang, one of the promoters who founded Woodstock. He talked about plans for the anniversary concerts in 2019. We had an opportunity to chat in line for food later.
 Lunch was a buffet in the hotel restaurant. Not a single thing was vegetarian – even the rice had ham in it – but the indefatigable Gracia convinced the kitchen to make me some rice with egg instead of ham and a beautiful mountain of sauteed greens. She took excellent care of me.  I chatted a little with some of the artists who had installations at the festival grounds.  Then we listened to a couple more tech panels, with Gracia translating for me.
I also did an interview for Japanese television with Kutsuna Miwa, whose art involves taking live bullets from conflict zones and transforming them into jewelry. She gave me one of her bracelets and I gave her a CD.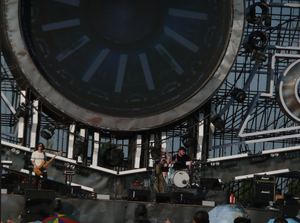 When the panel program concluded, we headed to the festival grounds. The festival itself took place a couple of kilometers from the hotel, at a dune-filled film site, Sky Desert (it was the location for The Mummy: Return of the Dragon Emperor, and many, many Chinese films).  It was magnificent. You passed through a giant Stargate to enter. The main stage was made to look like the engine of a giant spaceship crashed into the desert. I've never seen a stage that big. Everywhere you looked there were futuristic art installations and inflatables. People sat in the shadows of UFOs to listen to the music.
Gracia suggested we check out the technology tent before it closed.  We walked past dancing robots and a half dozen VR booths. At the center of the tent was a darkened room with another art installation, Nick Verstand's "Anima," a large vinyl planet that responded to movement by modulating its music and the storms on its surface in color, speed, and direction.
I played the cool observer until I couldn't anymore. I didn't try any of the shoot-'em-up VR games, and I don't want zombies chasing me in three dimensions, but there was a booth at the back with a demo of a VR experience based on a Liu Cixin story, created by Sandman VR. I put on the headphones, the visor, the gloves. There ensued several minutes of pure delight as I pushed my way through a starfield to see a man putting a child to bed on the moon. It was beautiful and thrilling. I get the appeal.
We left the technology tent at twilight, and watched the festival grounds transform again. Art installations such as Romain Tardy's Future Ruins lit up. Planets and sand snakes took on a stellar glow. The mainstage engines flared to life. It was breathtaking. I dragged Gracia away earlier than I would have liked (and I think earlier than she would have liked), because I had to prepare for the following day.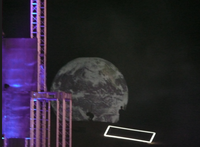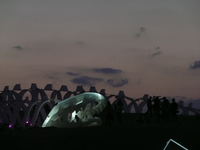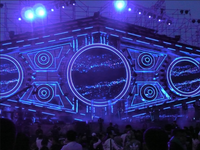 The following day was my first event of the trip: a panel about "How Sci-Fi can make breakthrough to the limit of humankind?" I was asked to play three songs before the panel began. The promised amp never materialized, but when I plugged my Telecaster direct into the board, a miracle happened. That beautiful high ceilinged room sounded wonderful.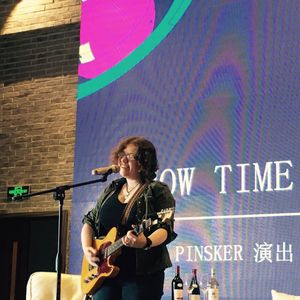 The panel included Stanley Chen (Chen Quifan) (read his Clarkesworld story "The Fish of Lijiang" here) and Tang Fei (read her Apex story Call Girl here), and was moderated by Ji Shaoting. I'm a fan of both of the other writers, and it was a pleasure to chat with everyone on the stage. For the second day of panels, there were live translators working English-to-Chinese and Chinese-to-English in a booth at the back of the room, and little earpieces we could wear to understand each other. It worked very well.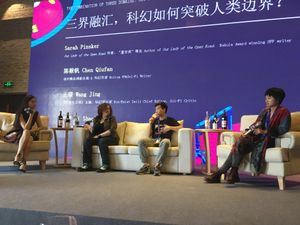 Afterward, we adjourned to the restaurant, where I ate another mountain of veggies and rice while everyone else went through the buffet. The other writers and the staff of the FAA sat down with me and we had a great time chatting. This time I insisted on a to-go container for my broccoli mountain, since I felt so terrible about all the wasted food.
That turned out to be a good plan. Partway through the afternoon panels, a huge hailstorm hit. It was cool to watch through the floor to ceiling windows of the winery. After the storm, the sky still looked ominous. I decided to sit out the second night of the festival, afraid that if I got drenched and sick I might have a miserable rest of my trip. Gracia made me promise that if I needed her I'd call her back, and went off to the festival. I had a wonderful evening reading and watching branch lightning from my window and eating my delicious leftovers. No regrets. I had one perfect night at the festival, and that was enough.
The next  morning we made the long trip back to Beijing. I was glad I had slept through the ride up, since I found the highway a little terrifying. Gracia pointed out one of the unrestored sections of the Great Wall from the car, which was cool. She asked a whole bunch of wonderful questions that she had been holding off on in order to save my voice for my festival appearance, which was very kind of her.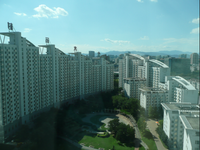 We arrived at my third hotel, near the university where the Galaxy Awards would take place. Near a bunch of universities and tech sites, I believe; this hotel clearly catered to an international clientele, as evidenced by their buffet, which included everything you might expect of an Indian, British, German, Chinese, or American breakfast. I dropped my stuff in my room and went off to lunch with Gracia and Jane, the FAA employee who was taking over for Gracia.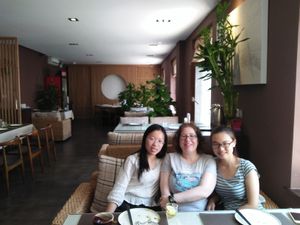 We went to an absolutely amazing restaurant, Cixiangju Vegan, not far from my third hotel. Gracia spent the meal giving Jane the Care and Feeding of a Sarah talk while I stuffed my face with sesame pancakes and vegetarian eel and pumpkin greens and barley tea and all kinds of amazing food I'd never had before. Back at the hotel, I said a tearful goodbye to Gracia, who did an excellent job of taking care of me for five exhausting days.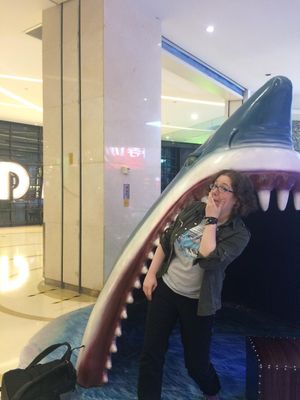 Monday night was my bookstore panel, hosted by the FAA. It took place at a famous bookstore in a mall. Jane and I went early because there was an interview I was supposed to do beforehand. After the interview, we wandered the mall for a while. I played an interesting little guitar in a music store. We took pictures with a giant fiberglass shark. I was still full from our lunch feast, but we went to a dessert café where I ate a giant bowl of chocolate coconut porridge and Jane had a grass jelly porridge. The coconut cream in my porridge swirled in a really pretty way. It looked like gases moving across a planet. Jane caught me playing with my food and recorded me, so now there is video of me playing with my food.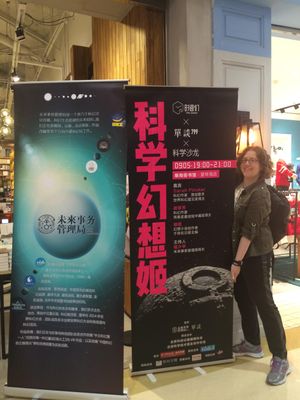 We went back to the bookstore, where there were now very professional looking human sized banners announcing the panel. The café at the back had been transformed into a listening space. Multiple media outlets were setting up cameras and mics. All this for a Monday night mall bookstore panel on women in science fiction! Very impressive. Even more impressive: the crowd that started lining up to get into the space.
The FAA had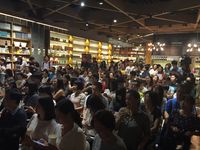 hired a live translator to make sure I understood and was understood. He had just moved back to Beijing from France, and was in fact trilingual. Also impressive.
This panel, like the one at the festival, was moderated by Ji Shaoting, and featured Tang Fei, Hao Jingfang  (author of the Hugo-winning novelette Folding Beijing) and me. I gushed at Hao Jingfang before the panel over how much I'd loved not only Folding Beijing but also her story Invisible Planets, which reminded me of Le Guin's Changing Planes, a book I adore. She told me she didn't usually come out to events (she has a toddler) but she wanted to do this one to meet me. Mutual admiration society.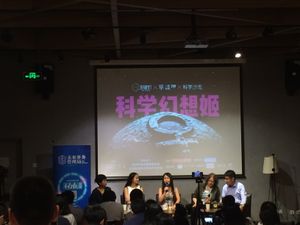 This panel also went really well. Ji Shaoting asked thought-provoking questions, and the audience asked great questions as well. I loved that the audience – about 150 people, and apparently 150 000 more online – seemed to cross all age and gender lines. At the end of the panel we sang Happy Birthday to one of the FAA employees, ate cake, and chatted with the audience. Tang Fei informed me that she had decided she was taking me out the next day.
The next morning, I took a cab on my own – the first time on the trip I went anywhere on my own! – to meet Tang Fei and Reika from the FAA at Beihai Park. I successfully got myself to the right park entrance (Well, Reika gave me a written address, which I gave to the hotel concierge, which the concierge explained to the taxi driver, so I didn't have all that much to do with it.)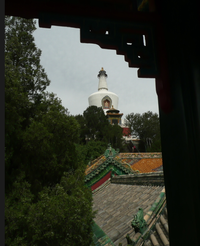 Beihai Park was beautiful. There were people dancing, rock formations, lakes, willows, lotus flowers. There's a white dagoba on an islet in the center of the park. From there you can see both the Forbidden City and the tallest skyscraper in Beijing – a stunning juxtaposition of old and new. Down the steps from there you descend into a temple grounds, shielded from the rest of the park.  We sat in a pavilion and chatted and took pictures. Somebody below us was painting and listening to Chinese opera.
From there, we walked out the park's south gate and then doubled back through the hutong along the eastern wall. We arrived at the Royal Icehouse, a restaurant inside a former royal ice houses (as the name says), where massive blocks of ice were stored for imperial use in the times before refrigeration. Tang Fei told me she'd seen me eating my mountains of rice and vegetables at the music festival and determined that I would eat a real meal with her. I had yam with blueberry sauce, young bamboo (DELICIOUS), gingko nut (I was told you should never eat more than five), and I can't remember what else. It was a delicious meal. Tang Fei had been concerned that her English wouldn't be good enough to converse with me, but science fiction proved like always to be a language of its own.  She and I snuck down into the basement while Reika was on the phone, and took pictures in the storage rooms.
After lunch, we wandered around the Houhai Lakes and over the Silver Ingot Bridge, then had coffee in a Starbucks while Reika interviewed me. I had a lovely day chatting with both of them.
The next day, having proven myself capable of taking a taxi on my own, I was assigned to meet Reika at the FAA office. The FAA's office turned out to be in the most science fictional building I've ever seen. After meeting with Alex about some business stuff and giving the staff the gifts I'd brought them from the American Visionary Art Museum, we went up to the swimming pool. The swimming pool was unmarked, but you could tell you were on the right floor by the chlorine smell. The swimming pool also turned out to be in a bridge between that building and the next one. The bridge included a spa and an auditorium.  The view showed the building to be one of several connected by similar bridges. At the bottom, there were ponds with bizarre little sitting rooms shaped like 50s televisions, a bookstore called Kubrick's, a movie theater, a convenience store. Very cool.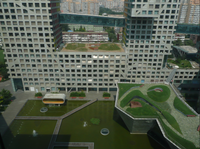 Reika and I took a taxi to the 798 Art District, a former munitions factory transformed into a modern art hub. Tang Fei met us and we ate a giant meal of assorted fake meats. I had a beautiful flowering tea (I can't remember what flower now…) and shared a beer with Tang Fei.
After lunch we wandered through the area, which was full of modern art galleries. We went to the Ullens Center for Contemporary Art, where we saw a cool installation called "The Last Vehicle" by a Hong Kong artist named Nadim Abbas. The first room you walked into was bathed in red light. A tiny remote-controlled rover wandered through a landscape of planetary dunes. The layout of the museum then took you through an exhibit of photos and architectural models of China's first Western hotels ("Accommodating Reform: International Hotels and Architecture in China, 1978-1990")– lots of Warhol photos. Eventually, if your trip is timed right (ours was) you arrive at a room where the artist behind the Mars Rover piece sat in a room meant to simulate a bunker. He wore a giant gaming helmet, pajamas, and slippers, and sat in front of a console with a joystick, a keyboard, and an array of monitors. Some had games, some had different views of the rover in the other room, which he was controlling in real time. The shelves to either side of him were filled with toilet paper and water bottles. It was a good commentary on the death of experience, especially in contrast to the very real experience of my trip. 
After that, we wandered into an exhibit of videos by female videographers (a mix of documentaries, art films, other…) and a beautiful gallery of watercolors that mixed traditional and modern styles.  We took a taxi back to the hotel. On the way, Reika got a message that Science Fiction World was requesting that I learn how to say happy birthday to Science Fiction World in Chinese for an anniversary video they were creating. I met the editors of the magazine in the hotel, where they recorded my valiant attempt at the sentence, after which I was whisked off to a soundcheck for the Galaxy Awards the next day. Then we dropped my guitar back at the hotel again and went back to the vegan restaurant from Monday, where Crystal Huff and I ate a feast with a bunch of the staff from the FAA. It was a leisurely, rollicking meal, full of laughter. We had a private room at the back of the restaurant, and stayed until they closed the place down around us.           
The next day, I met Crystal and the women from Science Fiction World and we went for yet another vegan feast at yet another amazing vegan restaurant, this time with the Science Fiction World editors. I ate so many delicious meals. After that, we headed to the Galaxy Awards, where Crystal gave her speech about what it would take for China to make a successful bid for a Worldcon. Afterward, the other writers went out for dinner and I stayed to check my guitar again, since it had issues the night before. Then we left and came back  to walk the red carpet. Yes, there was a red carpet for the Chinese science fiction celebrities attending the awards, and Crystal and I both got to walk it. I grinned, having no idea how to pout or pose. At the end of the red carpet was a big poster that we signed.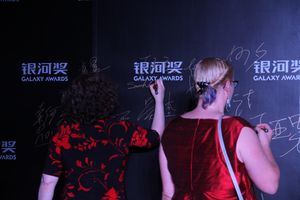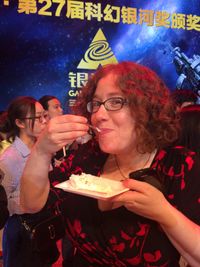 The Galaxy Awards were a very professional affair, with interstitial music, live music (it kicked off with an opera singer!), comic skits, videos. Ji Shaoting from the FAA hosted with grace and style. I sang Cavedrawing about ¾ of the way through the ceremony. I didn't even know about the starry backgrounds behind me until I saw the pictures afterward. The award ceremony also illustrated (as had the bookstore panel) exactly how popular and vibrant Chinese science fiction is. The enormous auditorium was filled with university SF clubs, authors, fans. I sat right behind the great Liu Cixin and watched him patiently sign autograph after autograph for his fans. Oh! And I got to meet one of the women who has translated my stories into Chinese, Anna Wu (Wu Shuang) , though sadly I didn't get a picture with her.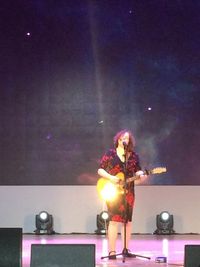 It was a lovely nig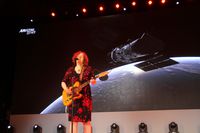 ht, and, sadly, my last evening in China. I bid a teary goodbye to all my new friends at the FAA and Science Fiction World, regretting that I hadn't been able to arrange to stay through the rest of the Galaxy Award festivities and the Chinese Nebulas that followed later in the weekend. I also don't seem to have any pictures with Li Xin or Joanna from Science Fiction World, which I'm sad about. 
So that was my China trip. I left so much undone, but I think I made the right choices in how to spend my limited free time. I'd love to go back and see the Great Wall and Tiananmen Square. I'd love to go to Chengdu and see the pandas. I'd love to go back and hang out with the wonderful people I met in my travels, but I'm glad I'll get to see more of them as more and more stories are being translated from Chinese into English for American magazines.
Also! If you want to read stories by all the authors I met in one place, an anthology of Chinese stories translated to English called Invisible Planets came out this week. You should check it out! 
All three of my host organizations worked together seamlessly to make sure my trip went well, and I had a great time with everyone they assigned to help me. If and when China bids again for Worldcon, they will have my support. The organizations I worked with proved they know how to put on a professional event. I'll forever be grateful for the opportunity.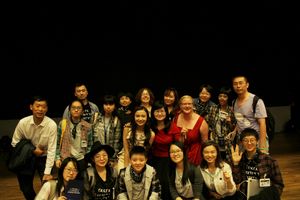 *photos with me in them were taken by Gracia, Jane, Reika, Tang Fei… apologies for the poor attribution.