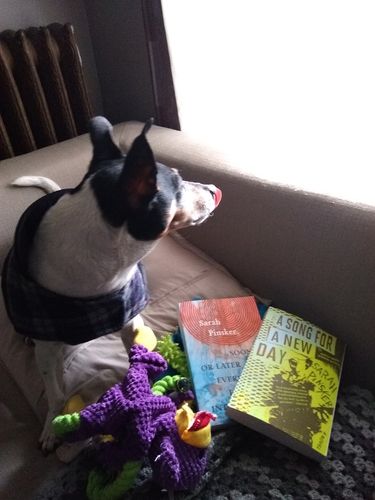 (If you're just here for my list of original fiction for 2019, just scroll to the bottom)
2019 has been one interesting year for me personally. For starters, when our Bo dog died in October 2018 at 17 years old, we swore we wouldn't get another dog for at least a year. It seemed like it would be a lot to deal with in a year where my first two books were scheduled to come out, but we only made it to the first week of February before we adopted Sprocket. Bo was a character and a half, and I still miss him, but he wasn't the most affectionate dog. Sprocket, on the other hand, wants nothing more than to be with us, or preferably on us. He has tons of terrier energy and walks me a lot.
I started the year with a very eventful trip to South Africa with Zu. Eventful for the air travel shenanigans, but while we were in one of the parks, we also got to see giraffes fight, spotted lions crossing the road after a meal (check out the full belly on the cub!), had to shoo a baboon out of the kitchen, and rescued a hornbill who got a foot caught in the car hood while trying to eat the windshield wipers.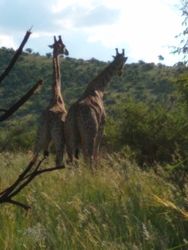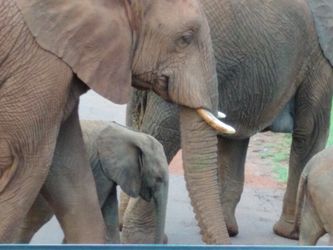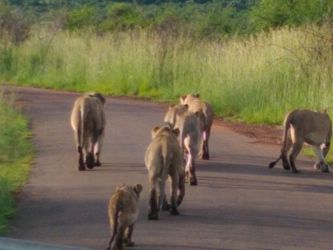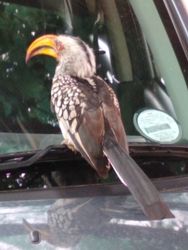 Worldcon was in Dublin, so I got to go to Dublin in August. In between my panels at the convention, I rode an adorable Irish horse who I would happily have taken home with me and got to see the stunning Trinity College library. My 2018 story "The Court Magician" lost the Hugo while I was there. It was also a finalist for the Nebula Award and the World Fantasy Award, both of which it also lost. In all cases, the finalist lists were fantastic and I was honored to be among them.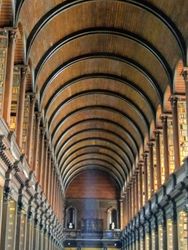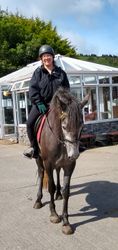 With two books out this year, I got to do some touring, including readings and signings in Orlando, Nashville, Los Angeles, Asheville, Greensboro, Chapel Hill, Baltimore, and New York, among other places, at amazing events that wouldn't be possible without indie booksellers like Parnassus Books, Scuppernong, Caprichos, East City, Skylight, Flyleaf, Malaprop's, Bluestockings, and Atomic Books. I braved New York Comic Con and BookCon (so many people!). I had two wonderful book release parties, one at the Ivy  and one at Bird in Hand. Both release parties were attended by friends and family and curious strangers from near and far, and I'm so grateful to everyone who made them joyous events.
.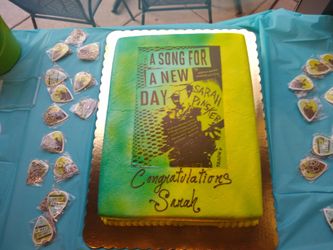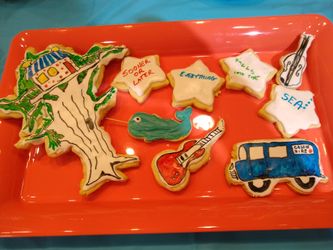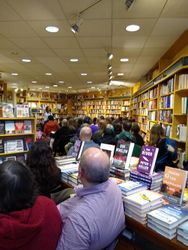 So yeah, the books. I didn't know how exhausting it would be to have two books come out in the same year while also writing another one. When I put it into words like that, it kinda makes sense. The two experiences, small press collection and big press novel, were different in some ways, but both were a joy to work with. It's all about the people, and the people at both publishers -- from editors to publicists to cover artists -- did an amazing job taking my stories and turning them into my very own books.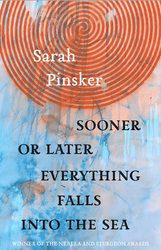 Sooner or Later Everything Falls Into the Sea came out in March from Small Beer Press. It contains a bunch of my previously published stories and one original novelette, "The Narwhal." (Hence the narwhal cookie on the cookie tray above, and a whole bunch of awesome narwhal gifts people have given me, including books, puzzles, beers, and an epic crochet.) Recorded Books also produced an amazing audio version. The collection got a whole bunch of starred reviews and the wonderful Charles de Lint wrote of it "We're only a handful of months into the new year, but I'm pretty sure that Sarah Pinsker's collection Sooner or Later Everything Falls Into the Sea will be the best book I read in 2019. If I'm wrong, I've got something really special to look forward to, because the quality of these stories is simply stellar...I love the sense of hope that permeates even the most hopeless of situations. I love the way the characters, their problems, and the settings they move through stay with me beyond the confines of the book's pages. I love every damn thing about these stories. When I got to the last page I was already looking forward to rereading them."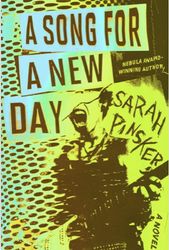 A Song For A New Day came out from Berkley (Penguin Random House)  in September. It was edited by the wonderful Rebecca Brewer. It got blurbs from some of my favorite writers, including Elizabeth Hand, Charlie Jane Anders, Ken Liu, Kelly Link, Ann Leckie, and more, and starred reviews from Kirkus, Library Journal, Publishers Weekly, and more. The wonderful music writer Jason Heller named it his favorite book of 2019, and it made it into the 2019 NPR Book Concierge, which was definitely a square on my writer bingo card. PRH did an excellent audio version with two talented actors narrating the alternating points of view.
(Another bingo card item: Locus Magazine interviewed me for a cover story!)
I am so proud of both my collection and my novel, both of which are beautiful books that represent me as well as anything could.
Despite touring two books and writing another during this year, I also managed to get a few stories out the door. 
My 2019 original fiction:
"That Our Flag Was Still There" is a science fiction short story that appeared in the Parvus Press anthology If This Goes On, edited by Cat Rambo.
"The Narwhal" is a novelette that appeared in my collection Sooner or Later Everything Falls Into the Sea. It  features a very cool art car and a very tense road trip.
"Everything is Closed Today" is a science fiction short story that appeared in the Apex Books anthology Do Not Go Quietly. (It's also related to A Song For A New Day!)

"The Blur in the Corner of Your Eye" is a dark fantasy novelette that is available free online  in Uncanny Magazine. Erika Ensign read it for their podcast as well, and did a terrific job.
A Song For A New Day, MY OWN FIRST NOVEL!!!
So yeah, that was my year in fiction, plus some bonus animals. I spent most of the year drafting another novel, so now I'm looking forward to everything I missed reading this year. Feel free to tell me all your favorite books and stories and dogs of 2019 in the comments!
My wish for all of us is to have as good a year in 2020 as this dog did in 2019.