My 2020 year in fiction  
(Skip to the bottom if you just want the eligibility post, like a recipe; the beginning is reflection) 
Well, I just looked back at what I wrote last year, and my 2019 summation post ended with "My wish for all of us is to have as good a year in 2020 as this dog did in 2019." Ha. Haha. Sob. In fact, for another year in a row, I don't think any of us had it as good as Sprocket did. This time, he didn't even have to deal with me leaving to travel. I'm still on the tank of gas I bought in July, which was the only one I bought after March.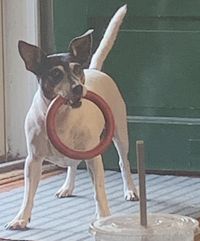 Parts of my novel came true, and more parts are coming true every day. Just yesterday I read about an artist who did an online concert in a virtual recreation of a club that doesn't exist anymore. I find that my decision to concentrate on the Before and After while skipping the During results in an odd sense of discovery that I can pass off as premonition. It's very weird to watch what was absolutely supposed to be fiction become nonfiction. I spent a lot of time explaining that Luce isn't anti-social distancing, and her club came years later, and she wouldn't advocate for secret underground shows in the middle of a pandemic; music is community, and infecting those around you with a deadly virus is not punk. I wish I'd anticipated masks.  
It's hard to reflect on a year in fiction divorced from the larger circumstance. The fact that I only had a handful of stories come out this year has nothing to do with the pandemic, and everything to do with a) having two books come out last year, with all attendant promotion, and b) the most overbooked spring of my entire life, pandemic notwithstanding. It turns out that teaching, editing a novel, and trying to get state legislation passed all eat up a lot of time, and writing is the thing that was most easily pushed back. 
If I have fewer stories out next year, that will be the more direct result of this year's panicked brain fog. I've managed to write more since August, at least, including a handful of stories I'm really happy with, and a good start on a new novel. I've learned my limits this year, in a few different ways. I'm hoping this is a lesson that will stick. 
Some good things came out of this year for me personally.  A Song For A New Day won the Nebula Award for Best Novel, and Sooner or Later Everything Fell Into the Sea won the Philip K. Dick Award, and those books and my novelette "The Blur in the Corner of Your Eye" got variously nominated for the Hugo, Locus, Compton Crook, and World Fantasy Award, which they lost to other wonderful works. I watched a lot of Zoom award ceremonies and got to celebrate everyone's wins in new and interesting ways.   
We sold translation rights in a bunch of other languages, and I'm excited to see those released. There are beautiful UK hardcovers of both books now from Head of Zeus.  
I taught my first college semester. I had a blast working with brilliant, motivated young writers, and I'm looking forward to doing it again this coming spring. I taught a super fun fiction camp for teenagers, and a bunch of one-off workshops.
I turned in final drafts of We Are Satellites, which is available for pre-order now before its May release, and which I'm excited for you to read.  Tor.com posted a cover reveal and excerpt here.
I learned how to slow down a bit, to not say yes to every online event, to take extra dog walks instead. More than ever, I recognize my neighbors by their dogs, since their faces are masked, but we're all friendlier than ever, from across the street. I learned the names of my neighborhood's trees and the exact date at which each plant flowers. I developed new reward systems. Some of the old ones still work too. Most of them are food.  
I bought a lot of music and books, but had to remind myself how to read for pleasure, since that disappeared briefly in the spring. I read in different genres than I usually do. I tried to keep all my favorite restaurants, coffeeshops, bookstores, clubs, musicians, and farmers in business. I watched everyone pivot to new ways of doing things. I discovered how much of my writing habits depended on coffeeshops, and worked on new habits. I know exactly how lucky I am that I have a job I can do from home, and I'm thankful for all those whose work allowed me to do so.  I found new appreciation on top of my already bounding appreciation for nurses, doctors, researchers, journalists, teachers, postal workers, sanitation engineers, store clerks, delivery people, and everyone who helps keep our society running.
I found new ways to connect with family and friends and colleagues, while missing the old ways. I got to read to my niece over the internet, at the exact age when she has enough attention span for remote reading, and in the exact moment when her online capacity wasn't yet overfilled with school. I meet up with friends to write and chat online. 
I did have a few stories come out, and I got to work with three of my favorite anthology editors for the first time, which leads to this eligibility post: 
NOVELETTE: 
"Two Truths And A Lie," Tor.com, June 2020. Edited by Ellen Datlow. 11000 words I think? Dark fantasy/horror. I'm very proud of this creepy piece.  
SHORT STORY: 
"La Mer Donne," Avatars Inc. anthology edited by Ann VanderMeer, March 2020. SF. There's a cat. Check out the super cool website and anthology.
"Bigger Fish," Made to Order anthology edited by Jonathan Strahan, March 2020. SF/mystery.  
"Notice," Us in Flux online project, June 2020. SF. This was a really cool project, and you should check out the other stories and conversations in the series. 
UK EDITIONS
Did I mention that A Song For A New Day and Sooner or Later Everything Falls Into the Sea both got gorgeous UK hardcover editions? 
Still forthcoming: There's one more lighter-side near future SF story that'll hit right at the close of the year from Escape Pod.  
So yes, 2020 happened. Here's truly hoping for a better 2021 for all of us.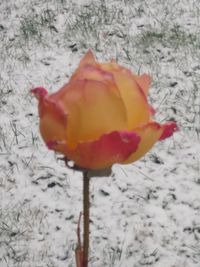 ps It's snowing right now, huge flakes that don't even look real. It was sixty degrees this weekend and the roses haven't stopped blooming all year.