My 2021 in Fiction and Music 
So I think 2021 happened? March 2020 was a year long, and 2021 felt like a month, but it must have been longer, because somewhere in that month time expanded to allow a book, a couple of stories, and an album to happen. And my third Nebula, for my 2020 story "Two Truths And A Lie," which also brought my first Stoker nomination, as well as Hugo and Locus nominations. Also a puppy. If you want to know what happened to my productivity, all my focus went into keeping a tiny rescue puppy alive. He's not so tiny now. The same weight as Sprocket and six inches taller, and we have no idea what he's going to be, but he's a good guy, so I figure it was time well spent.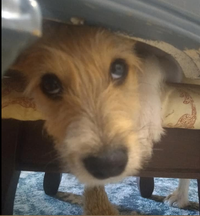 2021 STORIES (This doubles as an eligibility post):  
I only had two short stories out this year, but I'm super proud of both of them. The first was "Where Oaken Hearts do Gather," which appeared in Uncanny Magazine's March/April issue. It's a dark fantasy story told in comments on a lyrics website. The characters are trying to figure out the meaning behind a ballad that may or may not have a basis in truth. It was tremendous fun to write this one because I had to write the song in order to write the story. There's even a recording hidden in the story. As you might know, I love writing fiction about music, and this is one of those stories that just felt great to write from the first word to the last.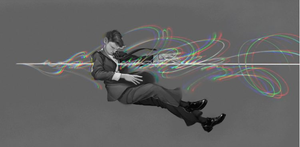 art by Ashley Mackenzie for A Better Way of Saying
My other original story this year was "A Better Way of Saying," which came out  November 10 at Tor.com. This one deserves a blog post of its own, but the short explanation is that it's historical fantasy set in the early days of film, recounting a particular movie magic. It features Lower East Side movie shouters (a real thing!) and a real life incident of the kind that begs to be fictionalized. If I've been writing too much creepy stuff for you, this might be more your jam.  
NOVEL: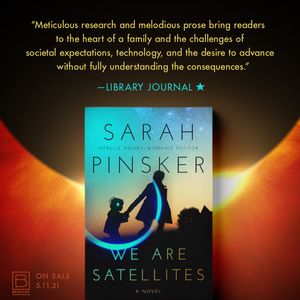 My second novel, We Are Satellites, was published in May, after ten years in my brain. It came out in beautiful US and UK editions. The tagline "one family and the technology that divides them" was a pretty good summation. It brought my first New York Times review ("Taut and elegant, carefully introspected and thoughtfully explored.") And some nice reviews elsewhere as well!  
  
"Pinsker's newest is a carefully crafted sci-fi web stretched over an intensely human core." 
—Booklist (starred review) 
"A graceful exploration of what one seemingly small change means for one family…Capturing the universal in the down-to-earth and specific is one of Pinsker's gifts, and here it's on remarkable display." 
—Tor.com 
The year ended with a great review in the Magazine of Fantasy & Science Fiction by Charles de Lint saying "Pinsker has a rather small body of work so far, but for this reader she's one of the brightest lights to emerge from the field in recent years. She's thoughtful, inclusive, not afraid to step up and shine a light into the darkness, but also not afraid to allow emoticons to play as large a part in her stories as the logic that underpins them. Like everything else she has written to date, We Are Satellites is highly recommended." 
MUSIC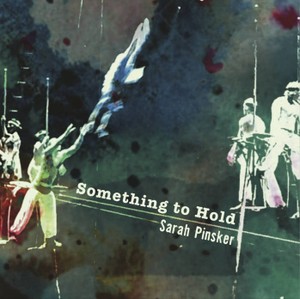 My last new thing for the year was my fourth album, more than a decade in the making. You can read more about it here.  I called it Something to Hold for a few reasons. It's a lyric from my song "Tomorrow People," a dustbowl song inspired by Timothy Egan's book The Worst Hard Time. The term comes from the people who would say "tomorrow things will be better" and stayed put rather than leaving.  
Daniel, when we put down roots here I swear they dug in deep 
these days it's just the stubborn ones like us 
still scrambling for something to hold 
We came drawn by a blanket of grass  
tucked in at the corners of the sky 
You'd think that such a precious thing 
would have put up more of a fight 
The album in general has a lot of songs about people trying to figure things out: where they are, what they're supposed to be doing, how long to stay in a situation, what's worth holding on to and what's worth fighting for. The cover alludes to the song "I Am Out Here," but also to that moment of letting go and trusting you'll be caught again and held. I figured it was a good name for something that I had talked about for so long that I wasn't sure if I'd ever see it in its concrete form. And then I was also thinking about the changes in music in recent years, and thought there was something fun and ironic in naming an album "Something to Hold" when my presumption is that most people will buy it in an ephemeral format online. That said, there are also CDs for those who, like me, still have the choice of CD or terrestrial radio in their car.  It's available everywhere, but bandcamp is best for me, if you want to check it out.
So anyway, yeah, 2021. Another hard year for artists, so if you're of a mind to, consider doing something to support your local artistic ecosystem if you can. Buy an album on Bandcamp, talk up a local band, put a few bucks in an artist's tip jar, buy books from your local bookstore, request your favorite authors in your local library, write a review, buy a calendar or a t-shirt from an artist you love. I still believe we're all in this together. 
Much love--Sarah